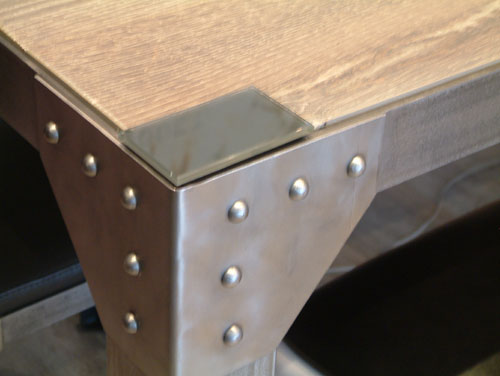 Industrial style tables
INDUSTRIAL TABLES REVOLUTION
The alluring textural mix of cool with warm, metal with wood, a little bit of grunge and a lot of character: industrial chic is most likely already taking form in a warehouse, workspace, or a home near you. Bringing classic pieces to be loved once more, industrial tables have revolutionised contemporary homes and offices. Iconic pieces, melding old-school designer elements with modern twists, make for not furniture that is not only simple and strong, but practical too. There's something attractively post-modern about bringing new life to a piece that once provided the solid base for creating objects with purpose. The perennially popular vintage look means that recycling a pre-loved industrial table is not only stylistically savvy, but environmentally attractive, too.
INDUSTRIAL TABLES FOR THE OFFICE
Simple, functional, durable: the long, even lines of industrial tables transplanted to a new setting can make for a fresh page for a forward-thinking business. What better way to encourage creativity and certainty in your office, than to use reliable surfaces built for making new things? Versatile and practical, industrial tables in any size can be used not only for their function, but for the aesthetic they embody.
INDUSTRIAL TABLES FOR YOUR HOME
You don't have to live in a warehouse or on a farm to show your funky sense of style – bring industrial tables out of their forgotten places in the garage or garden shed, and breathe new life into your home. The larger dimensions and sturdy design make for a great kitchen or industrial dining table that doubles in functionality as a work space for the kids' homework projects (or your own arts and crafts!) in a family home. Let the weathered textures speak their stories when you entertain – lit up with small tea-light candles, each scratch and spill on a pre-loved industrial table becomes a unique design feature, and a real talking point amongst your guests.