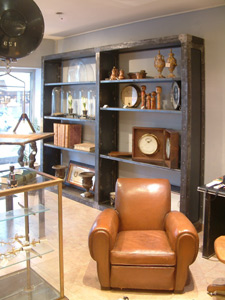 Industrial furniture
INDUSTRIAL FURNITURE REVOLUTION
Bringing classic designs back to be loved once more, industrial furniture has revolutionized contemporary homes and offices. Iconic pieces, melding old school designer elements with modern twists, make for not furniture that is not only simple and strong, but practical too. Functional and aesthetic – these are pieces made with a particular purpose in mind. What better way to show your designer edge than to bring industrial furniture into your home, and bring your creative – and hardworking – side to the fore.
ECO-FRIENDLY RECYCLED INDUSTRIAL FURNITURE
Whether recycling some vintage metal lockers or a sturdy drafting table, reclaimed industrial furniture might just be the rustic touch you're looking for. There's something attractively post-modern about bringing new life to a piece that once provided the solid base for creating objects with purpose. The perennially popular vintage look is here to stay! And in an increasingly eco-conscious age, recycling a pre-loved piece of industrial furniture is not only stylistically savvy, but environmentally attractive, too. Turning 'waste not, want not' on its head – the variety of shapes and textures mean an unlimited way of reimagining uses, so unwanted industrial furniture pieces shouldn't go to waste. That's a win for you and a win for the environment!
RE-INVENTED INDUSTRIAL FURNITURE
But it doesn't all have to be old-school benches and tables. Like everything else, industry has moved with the times, and 'industrial furniture' could now really be anything you can imagine. Propeller blades, conveyor belts, farming equipment – these unique shapes have inspired many new designs, for lamps, coffee tables, and chairs. The cool, smooth surfaces of a chrome wing or the warm touch of a weathered timber – the textures so familiar to manufacturers and industry continue to be used in modern furniture pieces. The many shapes and uses of industrial furniture, both in its original and re-imagined settings, make for limitless possibilities.