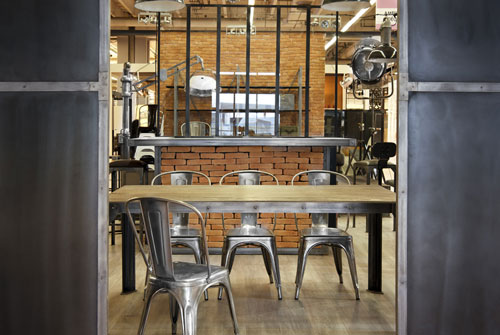 Furniture loft style
LOFT FURNITURE LIFT-OFF
With the gentrification of inner-city spaces worldwide, more and more former industrial and manufacturing spaces are being converted to highly sought-after real estate. Mezzanines and mixed-use areas, converted warehouses and studios – there is a whole new world of loft furniture out there to be strategically placed in available space. And you don't need to live in a loft, to have loft furniture. We're not just talking about loft beds creating miniature mezzanines and the illusion of more useable space – otherwise ordinary furniture can help to re-imagine and re-interpret otherwise ordinary rooms, changing the interplay of light and space, and a somewhat artsy, studio vibe.
LOFT FURNITURE BLURRING THE LINES
The blurred lines between spaces mean loft furniture often also has a subtle supporting role to play – marking out the oh-so-subtle divisions between spaces. A pretty folding screen used as a room divider is nothing new. But what about dividing the living area from the work area with a side table? Putting a sofa against a wall might create the illusion of floor space, but putting a sofa in the middle of the room creates the illusion of separate spaces. So before you start packing for the meatpacking district or moving to the Midwest – try moving your furniture!
LOFT FURNITURE IN YOUR HOME
So what will it take to bring some loft style chic to your home or office? Before you start assembling and placing your loft furniture, you need a good an understanding of your space and how you use it. If you create a study area under a loft bed, will there be enough light to work by? You may have to work with shadows from your loft furniture (which is a great reason to invest in some designer lamps). Perhaps you are furnishing an actual loft – do you have large windows or beams that might interfere with furniture placement and use of space? When placed thoughtfully, your loft furniture should not just mark space, but also create it.